Water Fight! The Work Continues . . .
The Baum Forum's dedication to preserving and strengthening regional food systems has led us to take an active role in the movement against hydrofracking — a dangerous method of extracting natural gas — in upstate New York agricultural areas.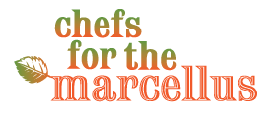 We have partnered with farmers, markets, universities, food and environmental organizations to raise awareness, and now we have helped to organize Chefs for The Marcellus, a campaign designed to focus chefs, restaurateurs and other food professionals to take action and protect the vulnerable agricultural region that sits atop underground gas-infused shale deposits known as the Marcellus Shale. The Marcellus stretches across several states. In New York it ranges from the Catskills and Finger Lakes across the state to Buffalo and beyond.
In Pennsylvania and elsewhere, the deleterious effects of fracking on hundreds of farms are already being felt. They've been documented in films like the Oscar- Gasland. In New York, the Department of Environmental Protection is, right now, in the midst of evaluating the impact of introducing this toxic industrial process into the rural landscape. That's why it's important for us to act now.

The Baum Forum's work on strengthening New York City's regional foodshed against hydrofracking began with Water Fight! Fracking, Food, Art & Economy, the May 2011 conference that helped galvanize attention on the looming threat to farming from this polluting process.
Click Here _ for conference information and presentations
Hydrofracking, also known as fracking, a dangerous, modern technology employed by the gas and oil companies to extract hard to reach gas under the Marcellus Shale and other low permeable shales, is recognized for its potential to degrade the watersheds of New York, New Jersey, Pennsylvania, Delaware and beyond. The toxic effects of fracking on water, air, soil and health have been documented and measured, and will compromise the sustainability of farming, vitaculture, and tourism in much of New York's southern tier and elsewhere.
To learn more and stay up to date on the status of fracking in our region please visit:
Catskill Citizens for Safe Energy Newsroom
DamascusCitizens.org
Food&WaterWatch.org: The Case for a Ban on Gas Fracking
GasMain.org
NYC.gov: Recent News on Natural Gas Drilling
Un-NaturalGas.org
United for Action.org

To join our mailing list or discussion group, click here.
Please visit our Conference Archives for conference information and presentations.


Recent Events from Baum Forum

2010 Festival & Youth Forum
Visit our Highway to Health Festival & Youth Forum website:
www.nycyouthforum.com 2010
Visit Baum Forum Archives:
Highway to Health Festival & Youth Forum 2010
2009 Youth Forum & Expo
Visit our Youth Forum & Expo: Food, Farming and Active Living website:
www.youthforumnyc.org 2009
Visit Baum Forum Archives:
Youth Forum & Expo: Food, Farming and Active Living 2009
These programs followed previous Baum Forum conferences on related themes:
Schools, Food and Community 2008
Schools, Food and Gardening: Cultivating a Healthy Future 2007
Schools and Food: Innovation, Opportunity and Wellness 2006

> Please Contact Us: For More Information and to be placed on our Mailing List